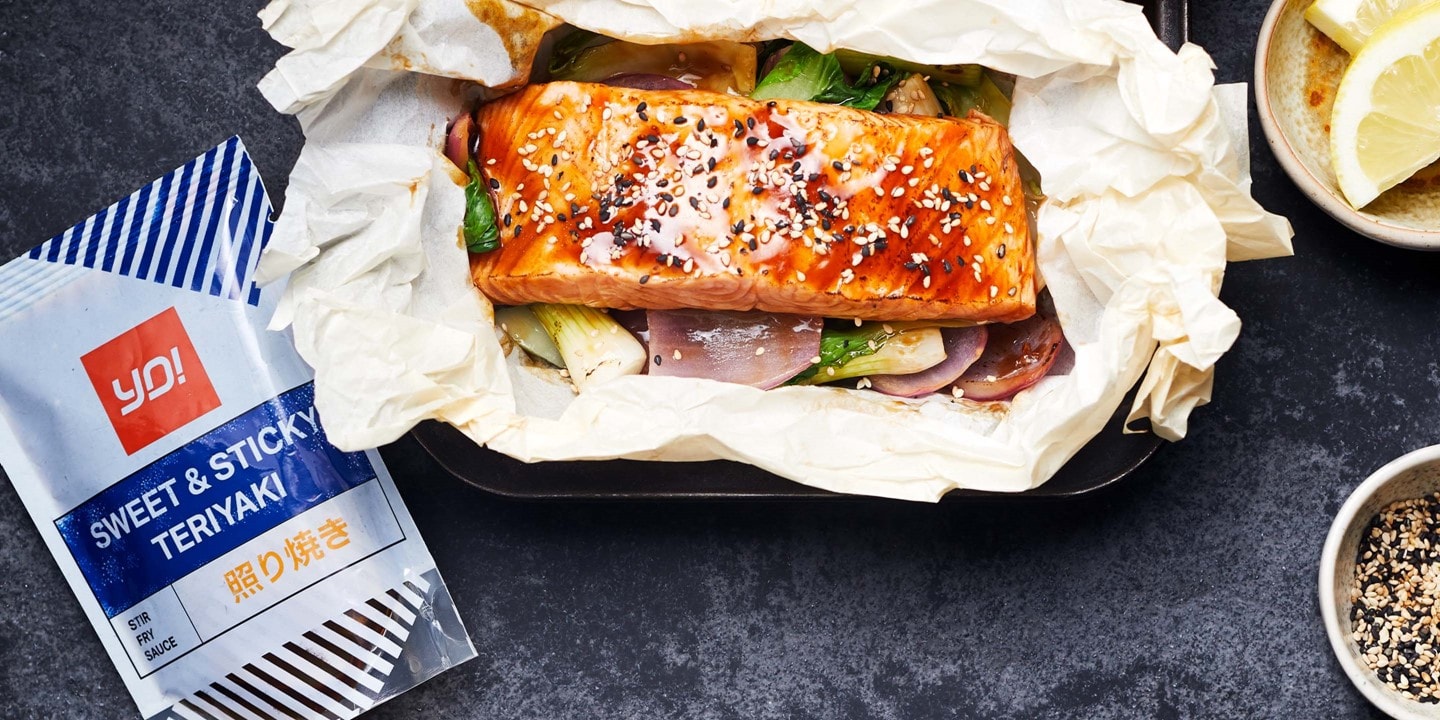 teriyaki salmon
This recipe is always a winner; thickly coated teriyaki salmon on seasonal vegetables with rice or couscous is the ultimate date night meal.

Ingredients:
1 x packet of YO! Sweet & Sticky Teriyaki Sauce or you can follow our simple recipe below
2 x responsibly sourced salmon fillets
2 x small red onions, cut into wedges
2 x spring onions, sliced
1 x pak choi, peeled
sesame seeds to sprinkle

Method:
Pre heat oven to 200C/180C fan assisted or gas mark 6
Roughly chop the red onions, trim of spring onion roots and chop roughly and peel the leaves of the pak choi
Half the vegetables and add to the middle of a roasting tin on grease proof paper. Add one salmon fillet on top of the vegetables and crinkle the sides of the paper to keep in all the juices. Repeat with the second salmon fillet
Place in the pre heated oven and bake for 17 minutes
Take out of the oven and thickly coat the salmon in Sweet and Sticky Teriyaki sauce and cook for another 3 minutes
Remove from the oven and serve on rice or couscous
Sprinkle mixed sesame seeds on top for that extra crunch!
If you fancy making your own teriyaki sauce at home, here's our recipe!
Ingredients:
150ml soy sauce

150ml mirin

50ml sake

50g sugar
Method:
Mix all the ingredients in a shallow saucepan and bring to the boil over a medium heat, stirring to ensure that all the sugar is dissolved.
Reduce the heat to low and let the mixture simmer for a further 15-20 minutes or until the liquid has been reduced by a third and is syrupy and glossy.
If you have sauce left, bottle it and refrigerate – use within 2 weeks.