what will I learn?
How to cook perfect sushi rice at home and how to roll. You'll soon be making some of our most popular dishes.
what happens in the class?
We'll give you a rolling matt, gloves, condiments, recipe cards and ingredients. Then our chef will talk you through how to pick the best quality fresh fish. They'll finish off by giving you step-by-step instructions on how to impress your friends by rolling thebest sushi.
what will I make?
Everything at YO! is freshly made. So what you end up doing on the day will depend on a few things. Like how many people there are in the class, if anyone has any dietary requirements, and if we have any specials on the menu that day. Some examples are: avocado maki, vegetable yasai roll, salmon nigiri, kaiso gunkan, salmon and avocado hand roll.
how much is it?
£30 per person, or £50 for two. So you'll save some pennies if you bring a friend.
do I get to take my sushi home?
Of course - your sushi is all yours. Once you've rolled it, we'll cut and box it up for you to tak away.
We'll also give you a professional sushi-rolling mat, a guide to sushi making, a certificate and a voucher for 25% off to use the next time you come to one of our restaurants. Score.
how long do the classes last?
Normally between 1.5 and 2 hours. Exactly how long depends on on how many people are in the class.
how do I book?
You can book online - just choose a class from the list below.
can I book a private class?
Of course - Just contact us online, or pop in or call a restaurant. We might even be able to run the sushi school somewhere else (like at a party). The price for this will be different though.
Due to these uncertain times, we are currently not running sushi school and aren't sure when we will be rolling again. If you have queries regarding sushi school vouchers purchased directly from YO! or Design My Night please contact hello@yosushi.com

If your vouchers were purchased through a third party such as Buy A Gift, Virgin or Red Letter Days please contact them directly.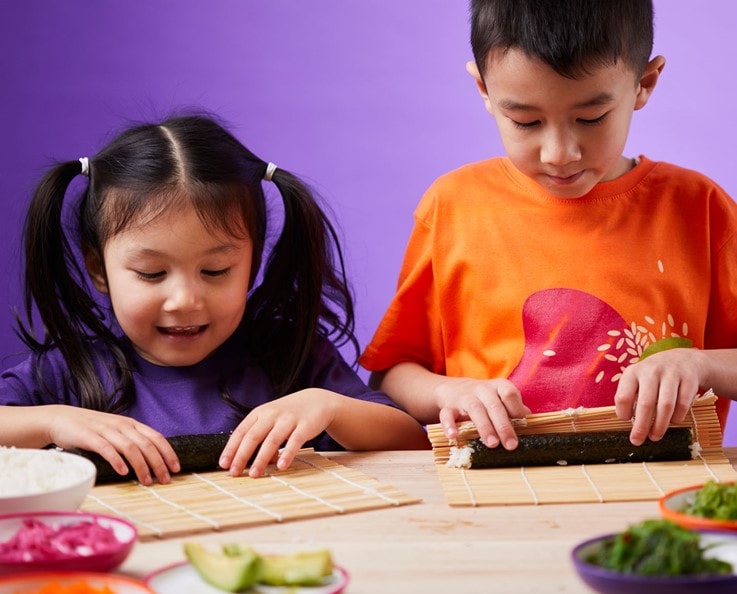 become a mini ninja
Some of our restaurants also run classes for kids aged 5 to 12. It's all about getting them excited about making healthy food that's packed with flavour. And the best news? It's only £15 each.
find out more