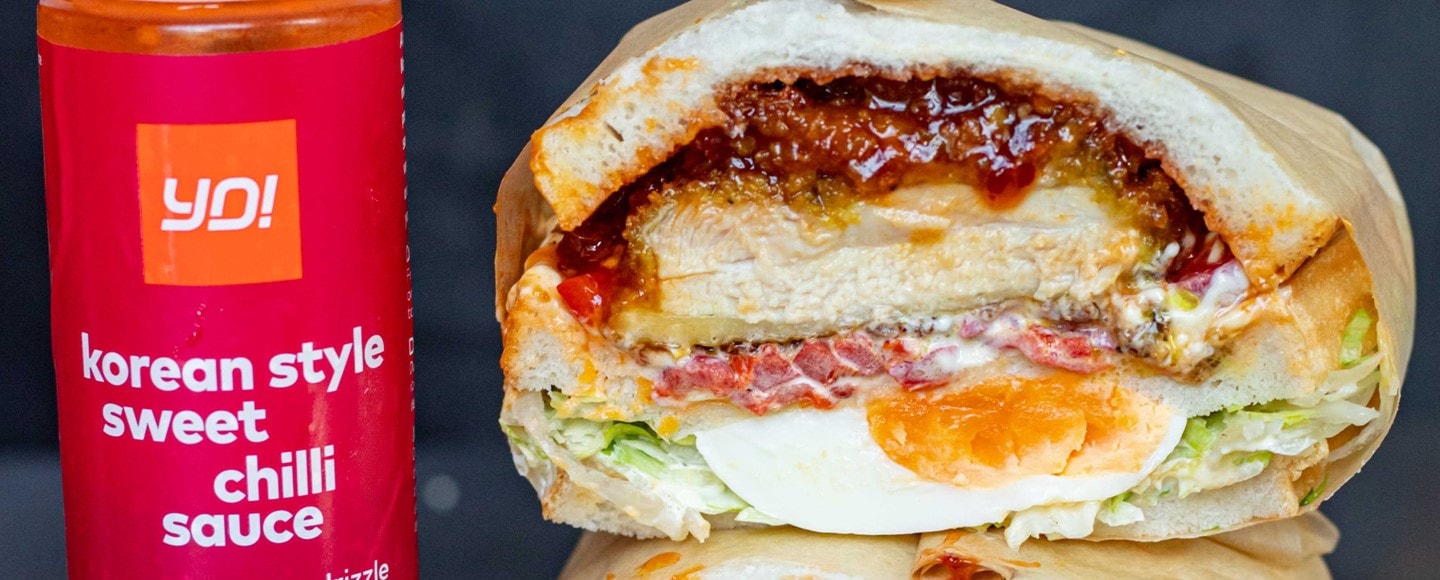 katsu-F-C club sandwich
A hot sauce glazed chicken stuffed into a sandwich with glazed, sticky aubergine, soft boiled egg, rice vinegar peppers, shredded lettuce and mayo. Loads of layers!
Ingredients:
1 piece of katsu-F-C
50ml YO! Sushi Korean Sweet Chilli Sauce
1⁄2 clove of garlic
1cm knob of ginger
1⁄4 tbsp soy sauce
1 tsp rice vinegar (plus 1 tbsp for the peppers)
1 jarred roasted pepper
1 egg
3 slices of white bread
handful of shredded iceberg lettuce
3 tbsp mayo
vegetable oil
salt
black pepper
Method:
Start by making a glaze for the chicken by finely grating your garlic and ginger.
Heat sweet chilli sauce in a pot and add garlic, ginger, soy sauce and 1 tsp of the rice vinegar.
Bring to a bubble and cook for a couple of minutes until thickened, then set aside.
Slice your pepper and get it into a bowl with the remaining rice wine vinegar, and set aside.
Get a saucepan of water on to boil and carefully drop the egg in. Cook for 7-8 mins then remove and cool in cold water. Peel and set aside.
Next, finely shred your lettuce.
Get your bread out and spread two slices with mayo, then top one slice with the fried chicken. Drizzle with sweet chilli glaze and top with lettuce and the second slice of bread, mayo side up.
Then add the peppers, egg and sticky aubergine. Top with the third slice of bread, wrap in greaseproof and slice down the middle.