Address
Heathrow Airport, Terminal 3: Departure Lounge,
Hounslow , TW6 1QG
Telephone
YO! Heathrow T3 opening hours
We are open for click & collect and takeaway for all your pre-flight dining needs.
Monday: 7am - 9pm
Tuesday: 7am - 9pm
Wednesday: 7am - 9pm
Thursday: 7am - 9pm
Friday: 7am - 9pm
Saturday: 7am - 9pm
Sunday: 7am - 9pm
covid-19
We have a new way to YO!, evolving our iconic kaiten belt to help keep our guests and team safe within the new guidelines. Order and pay is completely contactless and you can experience your food freshly prepared and delivered directly to your table.
nearby locations
Here are your closest YO! restaurants.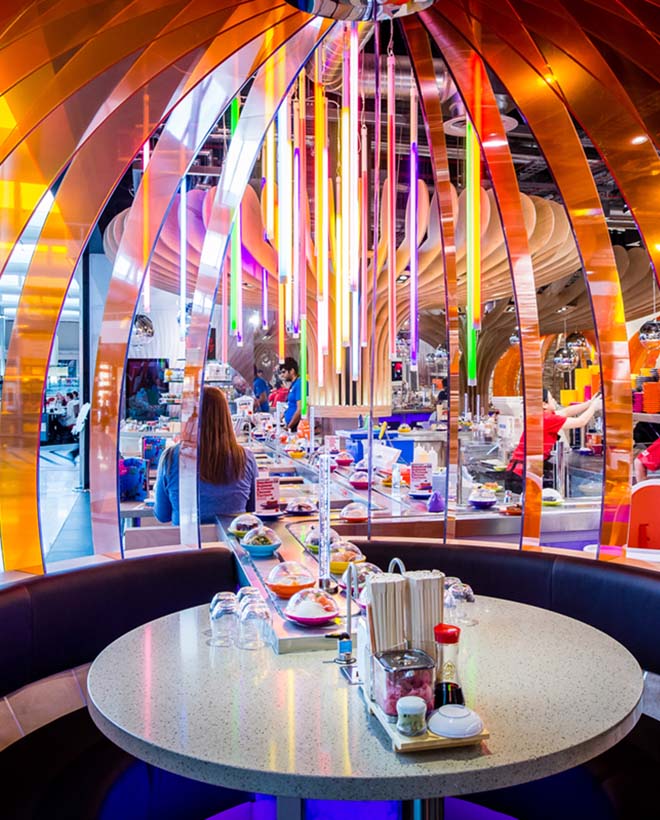 Heathrow T2
Airside RU2002, Terminal 2, Queens Terminal, Heathrow Airport, Hounslow, TW6 1EW
Opening at 7am tomorrow
order now
Sunbury-on-Thames Tesco Extra
Opening at 6am tomorrow
more info
Twickenham Tesco Extra
Opening at 8am tomorrow
more info
what to expect from YO! Heathrow T3
At YO! we are all about serving fresh, flavoursome, authentic Japanese food. Sushi is what we're known for, as well as our famous chicken katsu curry and spicy seafood ramen. The YO! menu is also full of a mouth-watering range of hot street food, from chicken gyozas to innovative fusion dishes - all packed with rich, aromatic flavours. If you are on a health kick, the YO! menu has a range of fresh salads and sides to enjoy alongside your sushi.
Experience the future of dining at your fingertips with our new, exciting way to YO! Have your meal your way using our digital menu to order and pay on your phone - completely contactless. Your food will then be freshly prepared by our expert chefs and delivered directly to your table on our upgraded iconic belt.
fun & vibrant dining at YO! Heathrow T3
At YO! we're proud to be unique, that's why each one of our restaurants are completely bespoke to their environment, offering a vibrant dining experience with our iconic kaiten ordering system and colour coded plates.
Grab sushi and fresh Japanese food at YO! Heathrow T3 and you'll be greeted by the intoxicating aromas of authentic Japanese street food and our friendly staff.
In need of a refuel before your flight? Head to YO! Heathrow T3 at the centre of Terminal Three for your fix of katsu curry, ramen and gyoza.
The iconic dining experience is ideally positioned in the centre of Heathrow T3, in prime location for your pre-flight lunch. You can find all of our favourite dishes expertly prepared and delivered to your table. Or if you prefer, pick up your YO! to go with our contactless payment.
So, what's on the menu? Enjoy dishes from avocado maki rolls and delicate sashimi, to moreish gyozas and sticky Korean fried chicken. You'll also find a great selection of classic soft drinks on offer, as well as a few wines and Japanese beers available for the adults.
first time
at YO!
We've put together a little guide with videos to walk you through how to order and what to expect from your first dining experience at YO!
how to YO!