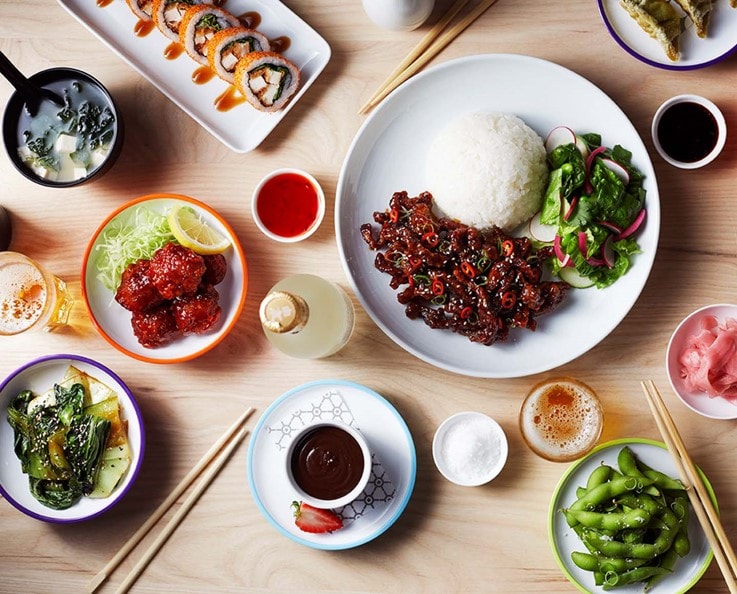 our belief
At YO! we believe everyone deserves to eat in colour. We love the colour and variety of our oceans, forests and fields. We want to shake up every day eating with delicious Japanese food, while making sure that the world stays as colourful as it can be. We're proud members of the Sustainable Restaurant Association (SRA) and the Sustainable Seafood Coalition. We continuously strive to improve our sustainability performance by embedding sustainability into our business strategy and using the power and influence of our brand as a force for good.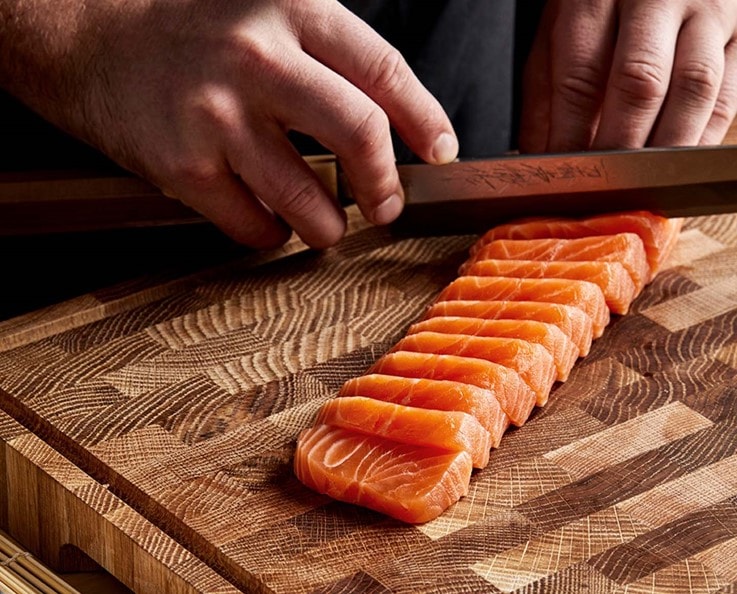 our seafood
We're committed to responsibly sourcing and all our seafood is rated 1-3 by the Marine Conservation Society (MCS).* We have longstanding relationships with our seafood suppliers; our Atlantic salmon is some of the highest quality farmed salmon on the market, it can be traced directly back to source and is certified to Global GAP (an internationally recognised standard for farm production). This makes up roughly half of all the fish that we buy. We have committed to the Sustainable Seafood Coalition's voluntary code of conduct on environmentally responsible fish and seafood sourcing. We are proud to have won the 'source fish responsibly award' from the Sustainable Restaurant Association as recognition of our work in this area. * The Marine Conservation society provides ratings for most species however not all species have ratings today – we continue to monitor this.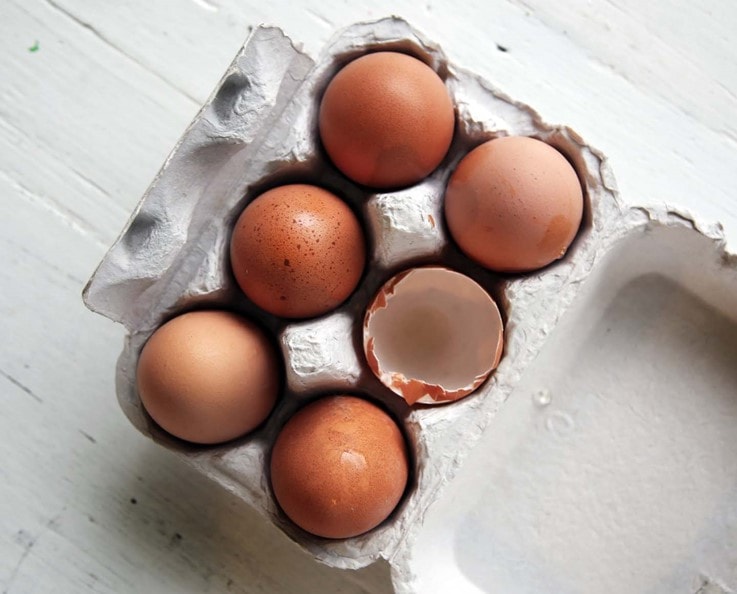 eggs & dairy
Our shell eggs are free range and all ingredient eggs in our products are cage free. All our fresh dairy products including mayonnaise are from the UK. We are committed to improving chicken welfare and we're working with our suppliers on improving their sustainability and welfare standards. We are also being advised by leading welfare NGOs on where we can make further improvements.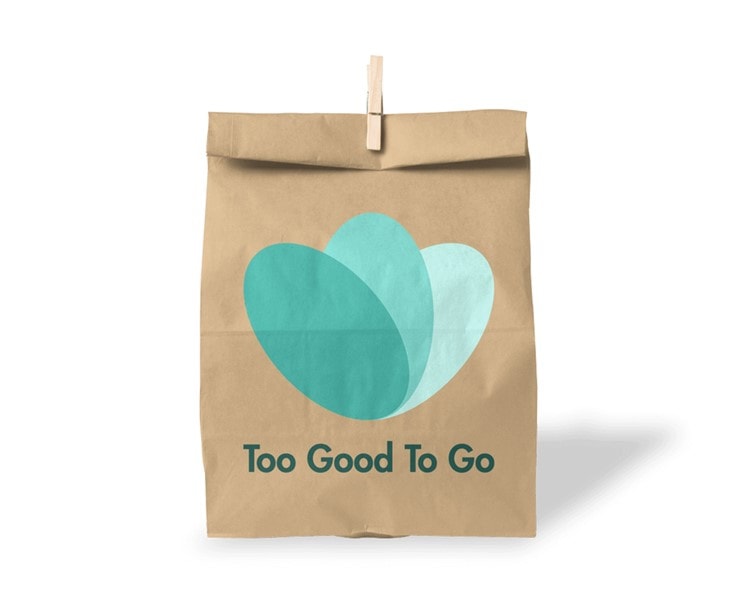 packaging & waste
We are proud to have been serving triple filtered tap water to all our guests for nearly 2 decades, which saves roughly 1.7 million plastic water bottles ending up in landfill. We don't serve straws with drinks and offer paper straws if requested. We have started to phase out non-recyclable plastic items (like black sushi trays) and are moving our take away packaging over to certified paper/card and recyclable plastic packaging made with recycled content that is fully recyclable. To minimise food waste we have partnered with Too Good To Go, a fantastic food diversion App that enables guests to buy our food at discounted rates when it is still deliciously fresh, but is soon to come to the end of its' shelf life. Since we have launched this we have saved 69,226 meals being thrown away, this is the equivalent of avoiding 131.5 tonnes of CO2 avoided or 5.3 years of electricity consumption for one household.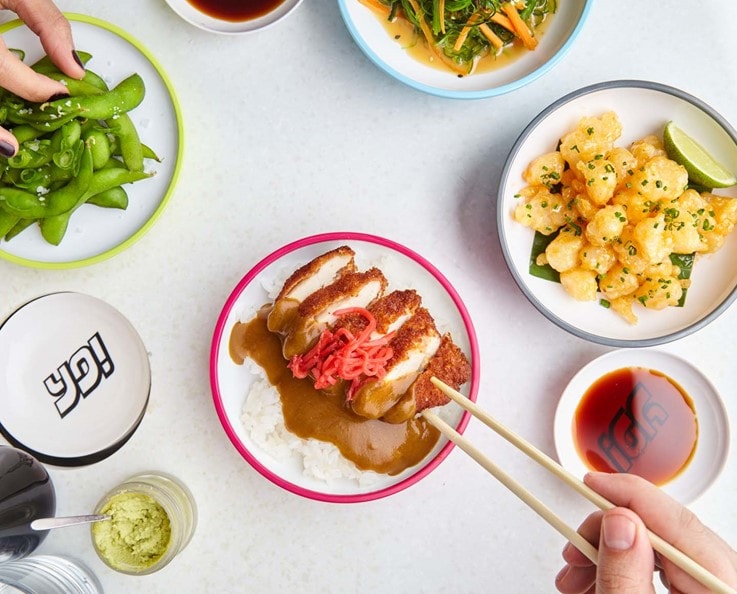 across our business
We are looking at our whole supply chain to better understand our "footprint" (current use, production standards and processes) and seeing where we can and want to do more. Sustainability is a key area of focus for YO! and we are always looking for ways in which we can make a positive difference.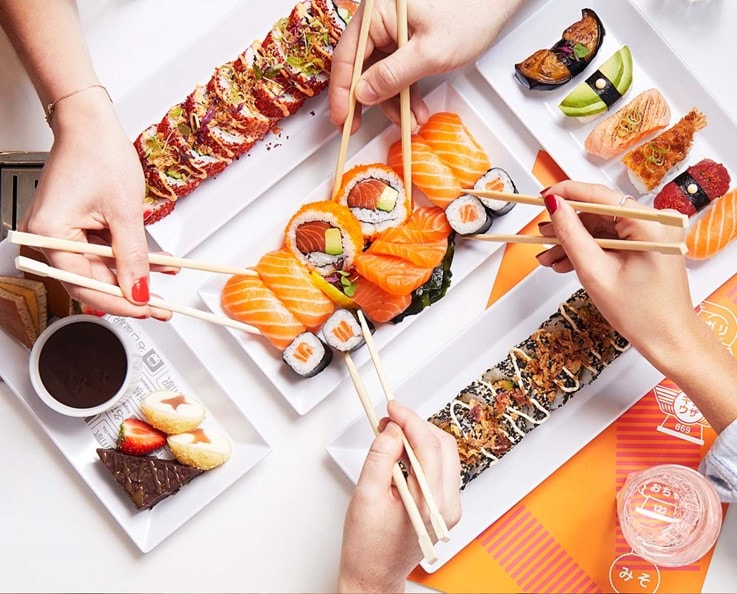 animal welfare & sustainable sourcing
Animal welfare and sustainable sourcing is incredibly important to YO! We've never sold Blue Fin tuna - ever – and we removed Unagi from the menu when it became endangered. Over the last year we have reviewed the sourcing of our fish, which forms the largest part of our menu. We only serve fish rated 1-3 by the Marine Conservation Society (MSC) and we have removed all red rated fish from our menu. Our work was recognised by the Food Made Good Awards in November last year, where we were delighted to win the Source Fish Responsibly Award 2019 and receive our 2nd Sustainable Restaurant Award star (out of 3 possible stars). Continuing this good work, 2020 is all about focusing on our meat and poultry and we are proud to be partnering with Compassion in World Farming, a leading animal welfare NGO on this. We believe for change to happen we need to work collectively as an industry. This is why we have signed-up to the 2026 European Chicken Commitment and pledge to continue to improve our welfare standards for our UK business.
find out more